Over the past decade, Range Resources has become a well-known employer and natural gas producer in Pennsylvania. The Marcellus Shale drilling company is responsible for thousands of jobs, millions of dollars paid in royalties and Pennsylvania taxes, and is deeply involved in community work with non-profits across the Commonwealth.
While most people associate Range with the 2004 discovery of the Marcellus Shale, the prolific rock formation that has allowed Pennsylvania to become a leading natural gas producing state, the company has actually been drilling wells in the Commonwealth for 25 years.
Ohio native and Director of Geology at Range, Chuck Moyer, remembers those early days. "We drilled our first wells as an operator in Pennsylvania in 1992. We were fully involved in conventional drilling in the Appalachian basin long before the Marcellus ever came along," says Moyer. "People may not be aware of that."
In the 1990's, Range was operating in Pennsylvania under the banner of Lomak Petroleum. The company purchased what is known as the Athens Field in 1990, and the drill bit first hit in 1992, as part of a five-well package located in Crawford County.
Less than a year later, the company made another Pennsylvania purchase, acquiring a Pittsburgh-based company called Mark Resources. That acquisition brought thousands of wells and valuable, drillable Pennsylvania acreage to the company. It also introduced the company to Pittsburgh native Bill Zagorski.
Zagorski grew up in Pittsburgh, graduating from Baldwin High School, and later from the University of Pittsburgh with two degrees in Geology. His first job after college in the early 1980's was with Atlas Energy, a small oil and gas company located near the Pittsburgh airport.
"Southwestern Pennsylvania was where I honed my prospecting skills," says Zagorski. "When I was with Mark Resources, my job was to look at different areas and come up with acreage for that company to then lease."
Now Range's Vice President – Chief Geologist, Zagorski was recognized as the Father of the Marcellus in in the early 2000's by the American Association of Petroleum Geologists. But he first began working for the company that would become Range Resources in 1992.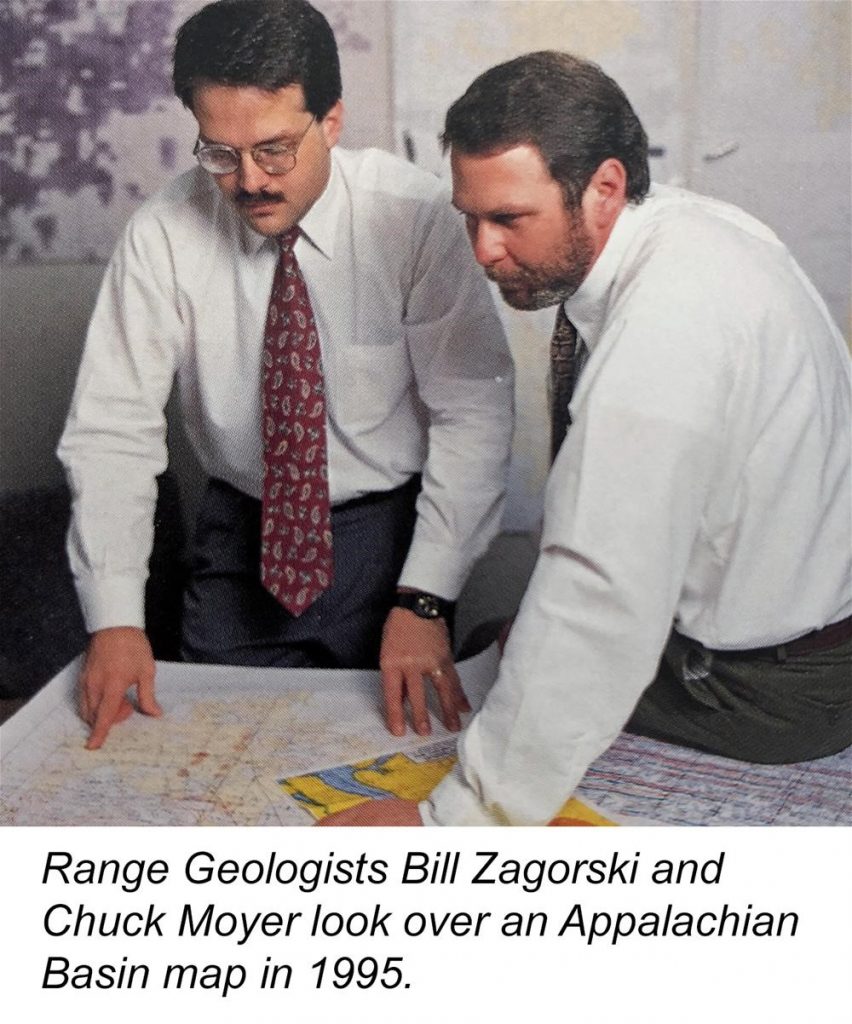 Like now, the primary product the company was drilling for was natural gas. Processes back then were very different though. Where Range now employs a technique known as horizontal drilling (or unconventional), back then, natural gas wells were drilled vertically (now referred to as conventional wells) and didn't harvest anywhere near the amounts that producers are able to manifest with current technologies.
"We would drill something like 100 wells a year," says Zagorski. Much of that was in and around Meadville, Pennsylvania. "Now, we get more production from just one Marcellus pad! But that's how it went back then, and that's how companies operated. Also, the Appalachian Basin used to command a premium gas price. Now our gas is far less expensive, because there is so much of it."
Former Senior Vice President of Corporate Development Chad Stephens has been with Range since the early 1990's. Chad works out of Range's Fort Worth, Texas office. He remembers meeting Bill during his first visit to Pennsylvania.
"In 1992, I flew into Pittsburgh with our then-CEO, and I met Bill Zagorski in the offices of the company where he used to work. I just immediately took a liking to Bill. He's such an optimist, and obviously a bright guy. He was the best asset that came out of that acquisition."
Stephens says Range was on a different path than it is today. "Back in the 90's, like so many other companies, our focus was on acquiring – improving – and then selling for a decent return on our investment. But as we moved out of the 1990's and into the 2000's, we were looking to change our approach. It wasn't easy. For us and for our peers, it was difficult to find projects where you could predictably grow year in and year out."
In 1998, Lomak Petroleum merged with a company called Domain Energy, and finally became known as Range Resources. That same year, Range upped its interest in the Appalachian Basin, leasing thousands of acres as the company continued drilling vertical wells.
"We were trying to get on a path of predictable growth," says Stephens. "And we were seeing the success some other operators were having in areas like the Barnett Shale in Texas, but we didn't have acreage in that field."
In 2003, another native of southwestern Pennsylvania joined the team at Range, as the company's current CEO, Jeff Ventura, was hired as chief operating officer. Like Zagorski, Ventura grew up in the suburbs of Pittsburgh. He joined Range with the goal of implementing a different type of growth strategy. Instead of the traditional high risk exploration path, he wanted the company to pursue opportunities that had the potential to be large-scale and repeatable.
It was also in 2003 that Bill Zagorski and his team were doing some exploring under acreage Range had recently acquired in Washington County, Pennsylvania. They were targeting a previously untested rock structure almost two miles beneath the Renz farm in Mt. Pleasant Township that they believed contained a sizable reservoir of natural gas. And boy were they were right.
Conventional local wisdom at the time said not to test the Marcellus, and old reports indicated that several operators had tried unsuccessfully in the past, using various (and unsuccessful) treatments to unlock the Marcellus.
But based on the science and potential that Zagorski and others were reporting to management, the Range team decided to push through. In October 2004, their tenacity paid off, as newer technology finally unlocked natural gas stores that were millions of years in the making.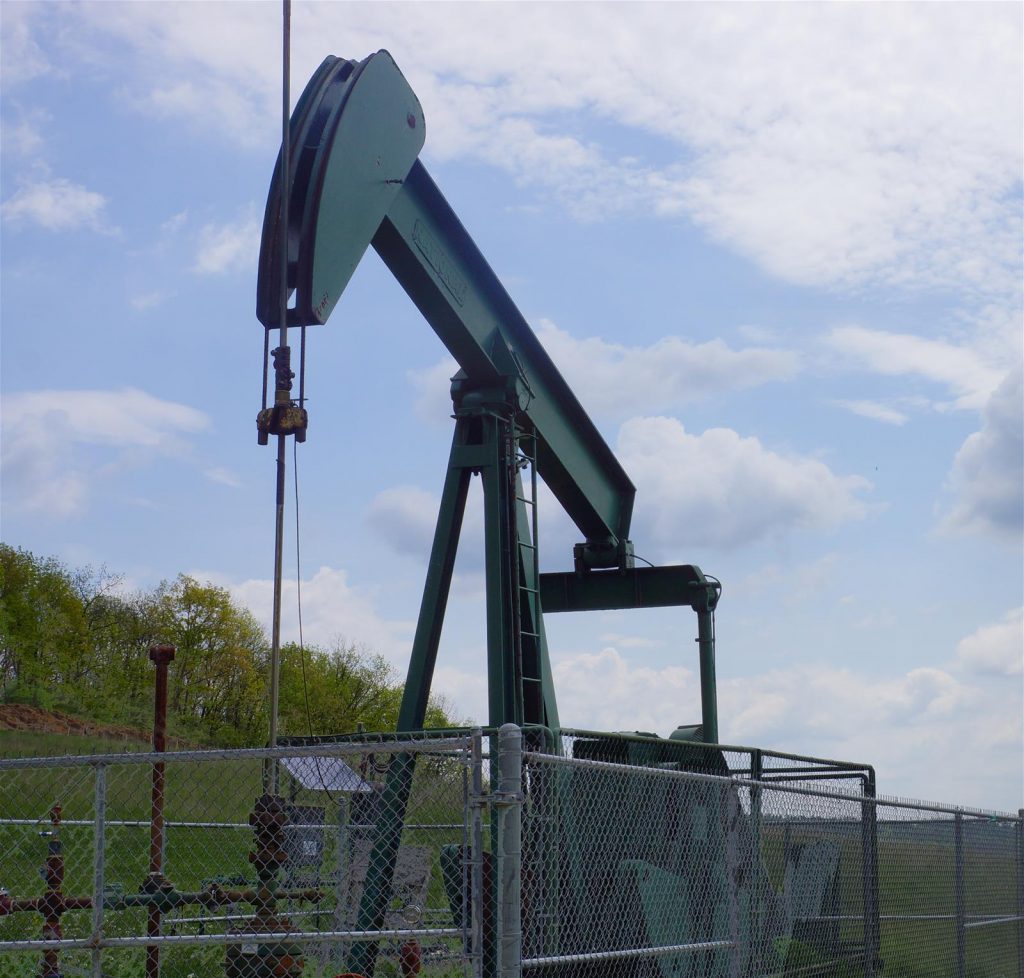 At the same time, the company's local acreage also put Range in a favorable position. In addition to already having a large legacy acreage position in the Appalachian Basin, Range had been leasing more land in southwestern Pennsylvania since 2000. Range now has approximately 875,000 net acres in the play, which includes a major position in what is considered the core liquids-rich portion of the Marcellus.
Between 2004 and 2007, Range invested approximately $150 million acquiring additional acreage, drilling multiple vertical wells, and testing horizontal wells. Those tests proved successful and set the stage for Range to enter a new era of horizontal drilling that has taken the company from natural gas sales of 100 million cubic feet of natural gas per day in 2009, to 200 million in 2010, 500 million in 2012, and an average daily production of 2.0billion cubic feet equivalent in 2017.
Several "firsts" have also been achieved along the way – from recording the highest 24-hour production rate ever for a Marcellus well in 2015, to becoming the first North American company to export ethane (a natural gas liquid) to Europe in 2016, to setting a record for the longest Marcellus laterals drilled to date in 2017.
"For a company our size to be able to do what we did, to pioneer the Marcellus, what is now one of the largest natural gas fields in the world, it was a wonder," says Stephens.
"Nobody thought it could work," recalls Moyer. "Everybody knew the Marcellus was a source rock, but the thinking was it was too tight, and you just had to drill through it to get to something else."
But as Zagorski proudly rebuts with a grin, "they were all wrong."
Today, like others in the oil and gas industry, the company has faced some challenges. But Range's rich history in Pennsylvania, the acreage it was able to acquire as a result, and the commitment to innovation that led to the pioneering of the Marcellus Shale – continues to set the company apart.
"We have one of the best assets in the country, a talented technical team, and a bright future ahead," says Stephens.
The company's newest outlook predicts a daily production of 3.5 billion cubic feet equivalent of natural gas per day – a number that would have been unthinkable back when Zagorski and Moyer were involved in Pennsylvania operations back in the 1990's and early 2000's. But Range's pioneering of the Marcellus, now believed to be the largest natural gas field in the world, changed the global energy industry – forever.
"It was a Pennsylvania property, and it's an incredible Pennsylvania story," says Zagorski. "A story of Pennsylvania roots and pride and hard work – for the last 25 years, and the next 25, and 25 more after that."