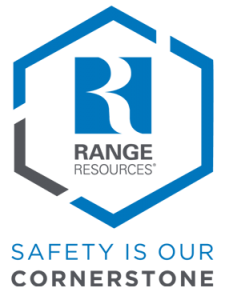 Safety is at the foundation of everything we do at Range and is essential to our success. Range's dedicated safety team works with every level of the organization to routinely update and improve the safety of our work processes. Through this collaboration, our safety programs are simplified to promote and facilitate their understanding and usability in the field.
Range upholds the highest standards when it comes to operating in a safe, responsible manner. We regularly communicate with our employees and contractors so they understand the important role they play in making safety a top priority. We also analyze and review performance while striving for continual improvement by working with key stakeholders, industry-leading technologies and commercial practices to minimize impacts on the health and safety of our workers and the communities where we operate.
However, ownership of the safety process does not solely reside within the Safety Department. Range's safety process is led by Senior Management and is embraced and upheld by all Range employees. Each level is accountable to the one above and responsible for the one below. This level of accountability and responsibility is achieved by a belief in and adherence to our corporate values. In Safety, like all that we pursue, we endeavor to achieve excellence.
Safety Culture
Equipping our workers with the necessary skills and knowledge to perform their daily responsibilities safely is a key focal point of Range's safety management system. Over the last several years, we have worked to refine our development and training programs to provide Range employees with relevant, job specific trainings based on the degree of risk involved and the complexity of efforts to mitigate said risk.
In addition to training, Range maintains a dedicated group of Safety Specialists who proactively work with our Operations groups and contractors to help identify opportunities for safety improvements at our sites. This routine interaction by the entire team helps to identify and mitigate hazards, and ensures that we maintain a high level of safety awareness in all of our operations.
Community Safety
We understand the unique responsibility we have to the communities where we work to ensure that all of our activities are conducted in a safe manner.
Range maintains a robust outreach program that works with a variety of stakeholders including citizens, non-governmental organizations, local and state government officials, area school districts, first responders and others to promote a safe and collaborative operating environment.
Our staff annually hosts a Safety Week, which is a week-long event dedicated to promoting a culture of safety, teamwork, and education. During this time, Range voluntarily suspends operations intermittently, and allows local first responders and external stakeholders to visit Range locations to learn more about our operations and create a collaborative environment.