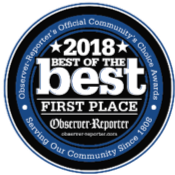 Range has received many accolades including being named Best Place to Work by the Washington County Chamber of Commerce in consecutive years. Range was voted the "Best Place To Work In Washington County" during the Observer-Reporter Newspaper's Best of the Best contest for 2017 and 2018. This is a testament to the company's commitment to employees and the culture at Range Resources.
Individually, employees are given the opportunity to make a difference. Collectively, our employees all work together to make a difference on an organizational level.
Diversity & Inclusion
At Range, we realize that the best workplaces are ones where individuals with diverse views and backgrounds can work together towards a common goal. We believe that everyone is their own person and can bring different talents and experiences to the table, not only inclusive of culture, nationality and heritage, but also diversity of thoughts, ideas and viewpoints. Range supports the cultivation of a diverse workforce by:
Offering both instructor-led and online training opportunities to establish awareness, encourage discussion and cultivate understanding and acceptance
Range's recruiting function has established a broad recruiting outreach program in order to increase the pool of qualified candidates from diverse backgrounds
We give all industry backgrounds and talents the opportunity to join our team. We make hiring, training, retention and development decisions based on merit, qualifications and abilities.